Search for (almost) any book
Twelve Twenty-Five: The Life and Times of a Steam Locomotive (Hardcover)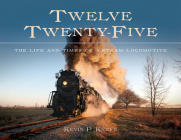 $70.43

In Our Warehouse & Available to Order
Description
---
The against-all-odds story of a World War II–era steam locomotive and the determination of two generations of volunteers to keep it running comes alive in Twelve Twenty-Five: The Life and Times of a Steam Locomotive.
 
Pere Marquette 1225 was built in 1941 at the peak of steam locomotive development. The narrative traces the 1225's regular freight service in Michigan, its unlikely salvation from the scrapyard for preservation at Michigan State University, and the subsequent work to bring it back to steam, first by a student club and later by a railroad museum. Milestones along the way include 1225's retirement in 1951, its donation to MSU in 1957, its return to steam in 1988, a successful career hauling tens of thousands of excursion riders, and its starring role in the 2004 movie The Polar Express. The massive infrastructure that supported American steam locomotives in their heyday disappeared long ago, forcing 1225's faithful to make their own spare parts, learn ancient railroad skills, and interpret the entire effort for the public. As such, the continuing career of 1225 is a triumph of historic preservation.
 
About the Author
---
Kevin P. Keefe has been a journalist and editor in the fields of news, entertainment, and railroads. A former editor and publisher of Trains magazine, he is a director of the Center for Railroad Photography & Art.
 
 
Praise For…
---
"Kevin P. Keefe's Twelve Twenty-Five is not only the masterfully told tale of a landmark locomotive, but it is also the story of a mid-twentieth-century industrial revolution—the pinnacle of steam on rails toppled by crafty new internal combustion engines. It's a tale of loss, mourning, and rebirth that is an inspiration for everyone who longs for the sound of a train whistle or the beat of a steam engine at work. If you like trains, steam locomotives, or a mission impossible tale of preservationists at work to save their beloved engine and see it steam again, you'll love this book."
—Jim Wrinn, editor of Trains magazine and author of Steam's Camelot

"Kevin Keefe has produced the definitive book on the restoration of Pere Marquette locomotive 1225. Melding the history and development of the steam locomotive and Lima's Super Power designs gives a solid foundation to the historical relevance of Project 1225. Kevin's intimate and important relationship to the early years of the project and his distinguished career as a journalist has yielded a brilliant and accurate account of the restoration of this wonderful steam locomotive."
—Randy G. Paquette, Michigan State University Railroad Club