Search for (almost) any book
Seven Days In The Valle: Baja California's Wine Country Cuisine (Hardcover)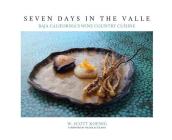 $42.29

In Our Warehouse & Available to Order
Description
---
Seven Days In The Valle: Baja California's Wine Country Cuisine documents the lives, cuisine and restaurants of seven of Baja California's most talented culinary artists working in the Valle de Guadalupe, Mexico's main wine-producing region. Through a series of photos and a number of intimate interviews with the chefs, this book captures their thoughts on Baja California cuisine, their feelings about the Valle (and its future), and a bit of their souls in the process and presentation.
The Valle de Guadalupe - located just 90 minutes south of the US-Mexican border near San Diego - is considered "ground zero" of the country's newest culinary movement. The style of food here is often referred to as Baja California cuisine or "Baja Med" due to its blend of Mediterranean dishes and recipes with the region's bounty of fresh, organic produce and proteins produced on-site at the restaurants or sourced from small Baja California ranches.
Seven Days In The Valle: Baja California's Wine Country Cuisine features interviews with: Drew Deckman of Deckman's en El Mogor, Esthela Mart nez of La Cocina de Do a Esthela, Roberto Alcocer of Malva, Miguel Angel Guerrero of La Esperanza, Sheyla Alvarado of Traslomita, Diego Hernandez of Corazon de Tierra, and Javier Plascencia of Finca Altozano.